STUDENTS ACHIEVEMENTS 2021-22
Students of our college has participated in various State and National Level Competitions and shown excellent performance to bag various prizes. A summary of the same is listed herewith.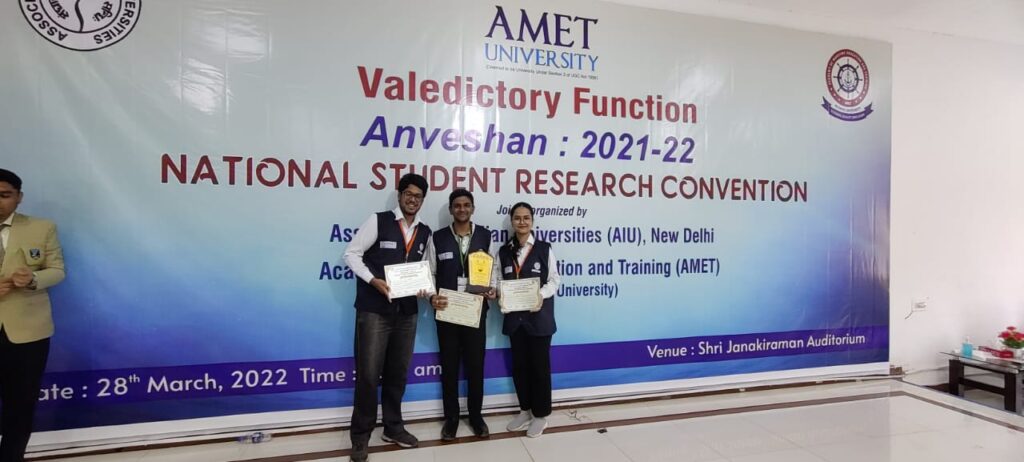 Amey Gavaskar, Faizan Mujawar and Gargi Nikam won the FIRST cash prize of Rs. 50,000/- at National Level Inter University Students Research Convention, Anveshan 2021-22.
Summary of students achievements for 2021-22
| | | | | | | |
| --- | --- | --- | --- | --- | --- | --- |
| Sr. No. | Name of student/s | Name of mentor/guide/   co-ordinator | Title of event | Organizing institute | Date of event | Achievement/   rank/prize |
| 1 | Amey Gavaskar, Faizan Mujawar and Gargi Nikam, T.Y B.Pharm | Dr Rahul Padalkar | Anveshan 2021-22 | Association of Indian Universities | 27-28 March 2022 | First cash prize of Rs 50,000/- in Health Sciences |
| 2 | Isha Ghadge, Saurav Kulkarni, Namrata Rathod, TY BPharm | Dr. Rahul Padalkar | Regional Level Project Competition | AISSMS IOIT | 2 May, 2022 | Second Cash Prize of 30,000/- |
| 3 | Faizan Mujawar, Gargi Nikam, Amey Gavaskar, TY Bpharm | Dr. Rahul Padalkar | Regional Level Project Competition | AISSMS IOIT | 2 May, 2022 | Consolation  Prize of 5000/- |
| 4 | Isha Ghadge, Saurav Kulkarni, Namrata Rathod, TY BPharm | Dr. Rahul Padalkar | Pharmathon | MIT WPU's School of Pharmacy, Pune | 1-3 rd June 2022 | Cash Prize of Rs. 20,000/- |
| 5 | Isha Ghadage, Sourav Kulkarni, Namrata Rathod, T.Y B.Pharm | Dr Rahul Padalkar | Ideathon 2021 | AG Patil Institute of Technology, Solapur | 30 Nov to 11 Dec 2021 | First cash prize of Rs 11000/- |
| 6 | Pranali Kuthe, M Pharm Sem III(Chemistry) | Dr. S V Bhandari | Scientific poster presentation at ISMTM 2021, Hyderabad | Sultan-ul-Uloom College of Pharmacy, Hyderabad | 12-14 Nov. 2021 | First prize |
| 7 | Shital Patil, PhD scholar | Dr S.V. Bhandari | AICTE sponsored two days Online national conference on pharma QbD : Product development | Dadasaheb Balpande college of pharmacy, Nagpur | 3rd and 4th September 2021 | Second runner up |
| 8 | Shreya Mantri, M. Pharm Sem-III, QA | Dr. M.C. Damle | Poster presentation at International e-conference titled "Pharmaceutical research and Innovation to tackle future health care arena" | Dr. M.S. Gosavi COPER, Nasik | 27-29 Sept. 2021 | Outstanding presentation award |
| 9 | Preetam Palkar | Dr. S.V. Tembhurne | Oral presentation in International Symposium on Medication Therapy Managment 2021 | Sultan-Ul-Uloom College of Pharmacy and CliMed Research Solution in collaboration with IPA, World Youth Heart Federation -India, Association of Community Pharmacist of India, and International Federation for Medical Therapy Management | 12-14 Nov 2021 | First Prize along with Rs. 5000/- as a Gift Voucher |
| 10 | Onkar Dindore | Dr. S.V. Tembhurne | Oral presentation in International Symposium on Medication Therapy Management 2021 | Sultan-Ul-Uloom College of Pharmacy and CliMed Research Solution in collaboration with IPA, World Youth Heart Federation -India, Association of Community Pharmacist of India, and International Federation for Medical Therapy Management | 12-14 Nov 2021 | Third Prize alng with Rs. 2000/- as a Gift Voucher |
| 11 | Preetam Palkar | Dr S. V. Tembhurne | video making competition on sustainable menstrural hygiene | Indian pharmaceutical association student forum ,Pune branch | ########## | second rank with gift hamper from Sirona Hygiene |
| 12 | Aanam Bagwan | Mrs.Swati Kolhe | National Elocution competition | World pharmacist day organized by Smt.Kishoritai Bhoyar college of pharmacy | 25th Sept 2021 | Runner up & received cash prize Rs 1000 |
| 13 | Aanam Bagwan | Mrs.Swati Kolhe | national extempore competition | National Pharmacovigilance week organized by dr. D.Y Patil institute of Pharm. Sciences & research | 23rd Sept 2021 | First runner up & received cash prize of Rs.750 |
| 14 | Aanam Bagwan, M.Pharm Sem-III (Pharmacology) | Mrs.Swati Kolhe | group discussion competition of future of Phama conference | Indian Pharmaceutical Association students forum- Pune branch in collaboration HealthcAlr India | 14th Nov 2021 | First prize along with cash prize of Rs.1000 & Gold medal |
| 15 | Abhishek Harne, M. Pharm Sem-III (Pharmaceutic) | Dr. Reshma Mirajkar | National Level E-poster Presentation Competition | D.Y. Patil School of pharmacy, Navi Mumbai | 17th sept to 22 oct 2021 | Third prize along with cash prize of Rs1000 |
| 16 | Rohan Londhe, Rathod Namrata, T.Y B.Pharm | Mrs Megha Shah | National Level Abstract writing competition | Sharadchandra Pawar college of Pharmacy, Otur | 25th Sept 2021 | First prize along with cash prize of Rs.3333 & certificate |
| | Atharv Survyvanshi, T.Y B.Pharm | Mrs Megha Shah | National Level Abstract writing competition | Y.B .Chavan college of Pharmacy, Aurangabad | 25th Sept 2021 | First runner-up prize |
| 17 | Isha Ghadage, Sourav Kulkarni, Namrata Rathod, T.Y B.Pharm | Dr Rahul Padalkar | Anveshan 2021-22 | Association of Indian Universities | 27-28 March 2022 | Finalist in general sciences category |
| 18 | Rutuja Londhe, Jayesh Awad and Pranav Uttekar, SY B. Pharm and M. Pharm. | Dr. Mrinalini Damle | State Level e-poster competition | Sanjivani COPER, Kopargaon, Ahmednagar | 9th April 2022 | First Prize |
| 19 | Indrani Mahadik, Purvaj Hirode, Mrunal Belwate, Ashwini Sagar, M.Pharm | K.D Asgaonkar, S.M Patil | National Level Digital poster making competition | Academic Decipher, Mumbai | 10-4-2022 | Third prize |
Student Participation 2020-21:
| Sr. No. | Name of student & class | Name of guide / Coordinator | Name of Organizing institute | Name of event & Date | Participation / Rank | Remark |
| --- | --- | --- | --- | --- | --- | --- |
| 1 | Snehal Hankare | Dr Mithun Bandivadekar | KBHSS Trust Institute of Pharmacy Nashik | E poster on Post covid opportunities in pharmacy/ Role of pharmacist in management of covid | | 12/16/2020 |
| 2 | Ayush Khater, Ms Kshtija Abhang, TY B.Pharm | Mrs K.D Asgaonkar,Mrs S M.Patil | Dr Babasaheb Ambedkar Technological University, Lonere, dist. Raigad | National Level e-Poster Competition on "Transforming Global Health: Role of pharmacist held on the occassion of World Pharmacist day, 25/9/2020 | Participation / Rank | |
| 3 | Mrunal More | Dr Ashwini Madgulkar | IQAC K M Kundanani College of Pharmacy Dept of pharmacology | Scientific abstract writing competition | Participation | |
| 4 | Ashwini sanjay sonawane, M pharm | Dr.Monica RP Rao | NIPER Guwahati | International workshop on molecular modeling and computer-Aided Drug Design (MMTT-2021) Jan 11-17, 2021. | Participation | |
| 5 | Ashwini sanjay sonawane, M pharm | Dr.Monica RP Rao | AISSMS College of pharmacy pune | Application of molecular modeling in formulation development. Jan 15,2021 | Participation | |
| 6 | Ashwini sanjay sonawane, M pharm | Dr.Monica RP Rao | CRS Controlled Relase society, Indian local chapter | 19 TH International e-symposium on Advances in technology and buisness potential of new drug delivery. Feb 25-27, 2021. | Participation | |
| 7 | Sharwari Alhad Sapate m pharm | Dr.Monica RP Rao | AISSMS College of Pharmacy Pune | Application of molecular modeling in formulation development. Jan 15,2021 | Participation | |
| 8 | Sharwari Alhad Sapate m pharm | Dr.Monica RP Rao | CRS Controlled Relase society, Indian local chapter | 19 TH International e-symposium on Advances in technology and buisness potential of new drug delivery. Feb 25-27, 2021. | Participation | |
| 9 | Sayali Sunil Sugaonkar m pharm | Dr.Monica RP Rao | AISSMS College of pharmacy pune | Application of molecular modeling in formulation development. Jan 15,2021 | Participation | |
| 10 | Sayali Sunil Sugaonkar m pharm | Dr.Monica RP Rao | Bombay College of Pharmacy | Rise of Dermacosmeceutical Market as an upcoming Trend & Opportunities for Pharma Graduates" which was scheduled on 28th January 2021" | Participation | |
| 11 | Sayali Sunil Sugaonkar m pharm | Dr.Monica RP Rao | CRS Controlled Relase society, Indian local chapter | 9 TH International e-symposium on Advances in technology and buisness potential of new drug delivery. Feb 25-27, 2021. | Participation | |
| 12 | Paul Gajanan Balaji m pharm | Dr.Monica RP Rao | AISSMS College of pharmacy pune | Application of molecular modeling in formulation development. Jan 15,2021 | Participation | |
| 13 | Paul Gajanan Balaji m pharm | Dr.Monica RP Rao | Bombay College of Pharmacy | Rise of Dermacosmeceutical Market as an upcoming Trend & Opportunities for Pharma Graduates" which was scheduled on 28th January 2021" | Participation | |
| 14 | Amey Gavaskar. Namrata Rathod, Girija Kulkarni SY B.Pharm | Mrs K D Asgaonkar, Mrs A N Avalaskar | Dr. L.H Hiranandani College of Pharmcy, Ulhasnagar | Pharmazest:An Intercollegiate virtual oral Presentation held on 26th June 2021 | Participation | |
Students' Achievements 2019-20
Students Name
Guide/coordinator
Event
Date
Organizer
Achievement
Anish Panwalkar, Ashutosh Mahamuni
Rahul Padalkar
Avishkar
2/1/2020
Savitribai Phule Pune University
Winner at University level
Anish Panwalkar
Ashutosh Mahamuni
Rahul Padalkar
Anveshan State level:West Zone
2/19/2020
Association of Indian Universities
Second Prize: Promoted to National Level
NIKHIL SANJAY PATIL
Dr Reshma Mirajkar Mam
Sinhgad USFDA Coference
9/13/2018
nikhilpatil20151@gmail.com
participation
Gangadhar Kedar & Naresh Choudhary
Dr. Sachin Tembhrne
Sanjivani Avishkar 2020
3/15/2020
sanjivaniavishkar2020@gmail.com
2nd rank at national level research idea competition
Ranjeeth Prabhakar Padakanti
Dr.Mithum M. Bandivadekar
PharmaNEST, International Conference on Shaping the future of Pharma Industry New Era Innovation in Biotechnology, Pharmaceutical Sciences and Biosciences.
1/9/2020
VES's College of Pharmacy, Mumbai
Second Prize
Pradip Chavan
Dr. M. R. Bhalekar.
National Level e-poster Fiesta Contest-2020 on 'Covid-19'.
6/19/2020
Special Appreciation Prize
Krishna wadekar and Pradnya Shirude.
Dr. M.R. Bhalekar
NPW debate compitition
9/27/2019
Indian pharmaceutical association
Winner (1st prize)
Mr. Aniket Ithape and Miss Priyanka Shelke
Dr Padmanabh Deshpande
Online e poster competition on Role of Pharmacist in Pandemic of COVID-19
5/10/2020
Ashokrao mane College of Pharmacy Pethvadgaon
Third prize
Sanskar Mahajan, Tejal Gangwal
Dr. Monica RP Rao
Avishkar 2020
12/20/2019
Savitribai Phule Pune University
Participation
Bhairavi Bakhale, Kshitija Abhang, Ayush Khater
Shital Patil, Kalyani Asgaonkar
5th METREXPLORE 2020 (UG Research conference)
2/8/2020
MET Bhujbal knowledge city's Institute of Pharmacy, Nashik
Second Prize (Cash Prize and trophy) College awarded with appreciation trophy
Mr Aniket Ithape and Miss Priyanka Shelke
Dr Padmanabh Deshpande
National level e poster competition on Role of Pharmacist in community health disater in Pandemic Diseases
5/20/2020
Siddhant college of Pharmacy Pune
First prize under PG Category
Ms Aditi Vaidya

(SY B.Pharm)

K.D Asgaonkar, S.M Patil
AISSMS Creative Champs
1/26/2020
AISSMS
Winner
Ms. Shital Ranvare (Final Year B.Pharm) , Ms Shivani Godbole(T.Y B.Pharm) and Mr. Gaurav Mahajan(T.Y B.Pharm)
Dr M C Damle, K.D Asgaonkar
IPA National Pharma Quiz Competitions
2/27/2020
IPA,Vignan Institute of Pharmaceutical Technology, Visakhapatnam, Andhra Pradesh
2nd AIR
Ms. Brinda Nadar(Final Year B.Pharm), Mr.Atharva Kulkarni (Final Year B.Pharm) and Ms. Samruddhi Kelkar (T.Y B.Pharm)
Dr M C Damle, K.D Asgaonkar
IPA National Pharma Quiz Competitions
2/27/2020
IPA,Vignan Institute of Pharmaceutical Technology, Visakhapatnam, Andhra Pradesh on 27th Feb 2020
4th AIR,Cash prize of Rs. 2500/-, certificate of merit, Trophy to contestant and College
Ms .Bhairavi Bakhle (SY B.Pharm)

Ms Kshitija Abhang (SY B.Pharm)

Mr Atharva Kulkarni *(Final Year B.Pharm)

Shital Patil, Kalyani Asgaonkar
National level e poster competition
5/15/2020
Dr. DY Patil Institute of Pharmaceutical Sciences and Research and Association of Pharmacy teachers of India
Special appreciation for being selected in top 8 amongst 425 posters. Also work has been selected to publish as research paper in host institute journal named as 'Pharmaceutical Resonance'
Ms. Shital Ranvare (Final Year B.Pharm) , Ms Shivani Godbole(T.Y B.Pharm) and Mr. Gaurav Mahajan(T.Y B.Pharm)
Dr M C Damle, K.D Asgaonkar
IPA National Pharma Quiz Competitions
2/27/2020
IPA,Vignan Institute of Pharmaceutical Technology, Visakhapatnam, Andhra Pradesh
2nd AIR,Cash prize of Rs. 10,000/-, certificate of merit, Trophy to contestant and College
Ms .Bhairavi Bakhle

Ms Kshitija Abhang

Mr Ayush Khater

(SY B.Pharm)

K.D Asgaonkar S.M Patil
Avishkar 2019 (Zonal level),
11/1/2019
SPPU
Selected for District level Avishkar
Mr Ayush Khater

Ms Maitreyee Upadhaya*

(SY B.Pharm)

Shital Patil Kalyani Asgaonkar
e- poster competition on Covid-19 Pandemic
5/15/2020
Amar Seva Mandals Kamla Nehru College of Pharmacy, Nagpur
Participation
Mr Ayush Khater

Ms Kshitija Abhang Ms .Bhairavi Bakhle

(SY B.Pharm)

S.M Patil ,K.D Asgaonkar
Avishkar 2019 (Zonal level)
11/1/2019
SPPU
Selected for District level Avishkar
Ms .Bhairavi Bakhle

Ms Kshitija Abhang

Mr Ayush Khater

(SY B.Pharm)

K.D Asgaonkar, S.M Patil
Avishkar 2019 (District Level)
1/21/2020
SPPU
Selected for University level Avishkar
Ms Kshitija Abhang (Third Y B.Pharm)

Ayush Khater (Third Year B.Pharm)

Shital Patil Kalyani Asgaonkar
National level e-poster competition on Roles of pharmacist on in fighting against COVID 19 pandemic
6/10/2020
Hamdard Educational and charitable trust, Hubli
Received participation certificate. Results yet to declare
Mr Ayush Khater

Ms Kshitija Abhang Ms .Bhairavi Bakhle

(SY B.Pharm)

S.M Patil, K.D Asgaonkar
Avishkar 2019 (District Level)
1/21/2020
SPPU
Selected for University level Avishkar
Mr.Amey Gavaskar

Mr. Saurav Kulkarni

Ms. Isha Ghadge

(F.Y B.Pharm)

Shital Patil Kalyani Asgaonkar
National e- poster competition on Covid-19 Pandemic
5/30/2020
Kokan Gyanpeeth Rahul Dharkar College of Pharmacy and research institute Karjat
Received participation certificate. Result not declared up till now
Ms .Bhairavi Bakhle

Ms Kshitija Abhang

Mr Ayush Khater

(SY B.Pharm)

K.D Asgaonkar , S.M Patil
Avishkar 2019 (University Level)
1/21/2020
SPPU
Participated
Mr Ayush Khater

Ms Kshitija Abhang Ms .Bhairavi Bakhle

(SY B.Pharm)

S.M Patil, K.D Asgaonkar
Avishkar 2019 (University Level)
1/21/2020
SPPU
Participated
Tejal Gangwal And sanskar Mahajan
Dr Monica RP Rao
1.Invention of nanotechnology and targeted drug delivery system. 2. District level competition – Avishkar
1/14/2020
Sinhgad college of pharmacy pune
Participation
Paul Gajanan
Reshma mirajakar madam
Introductory course of pharmacokinetics modeling and simulation
6/7/2020
Association of pharmaceutical teacher of india
Participation
Abhishek Joshi, Gaurav Mahajan
Amruta Avalaskar
Avishkar
1/12/2020
SPPU
Participation
Abhishek Joshi, Utkarsha Awadh, Mahesh Aher, Gaurav Mahajan
Amruta Avalaskar
MetExplorer
2/7/2020
MET Nashik
Participation
Rushikesh Dadabhau Shinde
Dr.Mithun Bandivadekar
Maharashtra State level Youth festival-Indradhanush
12/5/2019
Gondwana University,Gadchiroli,Maharashtra
3rd In Maharashtra State
Pradnya Shirude and Krishna Wadekar.
Dr. Shashikant bhandari
NPW DEBATE COMPITITION
9/27/2019
Indian pharmaceutical association
Winner (1st prize)
Kshitija Abhang
Shital Patil
Pharma got talent
4/6/2020
MET bhujbal knowledge city institute of Pharmacy
Participation
Kolse Pooja Balasaheb
Mrs. Swati kolhe
Role of pharmacist in fighting against Covid-19 pandemic
6/10/2020
Hamadard education and charitable trust, hubli
Participation
Snehankit Gawade
Dr.M.R. Bhalekar
CRS conference
2/28/2020
CRS
Participation certificate
Pradnya Shirude

Manjushree Athavale

Dr.M.R. Bhalekar
E-poster presentation at international level conference
1/14/2020
Sinhgad College of pharmacy, Pune
Special appreciation among all the participants
Ashwini sanjay Sonawane
Dr. Bhalekar
Controlled release society-Indian chapter 2020
2/28/2019
CRS
Participate
Sayali Sugaonkar
Dr.M.R. Bhalekar
Advances in Technology and Business Potential of New Drug Deliver
2/28/2020
CRS
Participation
Ashwini sanjay Sonawane
Dr. Bhandari Sir
State level essay competition
6/15/2020
SGMSPM'S dayanvilas college of pharmacy pune
Participation
Mr. Anirudha chaskar
Ms. Swati kolhe
E-poster competition
6/9/2020
Hamdard education trust and research centre, hubli
Participation
Gundecha Gautam Sanjay
Mrs. Swati Kolhe, Mr. Karpe swapnil S. , Ms. Devne Sonali, Ms. Hemlata Dange
State level essay competition
5/26/2020
SGMSPM's Dyanvilas College of Pharmacy, PCMC, Pune
Participation
Kolse Pooja Balasaheb
Dr. A. A. Shirkhedkar
Covid-19
5/25/2020
R. C. Patel institute of pharmaceutical education and research, shirpur
Participate
Anirudha chaskar, anup deshmukh, pratima tambe
Ms. Swati kolhe
Two day national level seminar and e-poster presentation
2/14/2020
Sinhgadh college of pharmacy, narhe
Participation
Gundecha Gautam Sanjay
Rahul Padalkar,
Online National Pharma Quiz
4/29/2020
SKB College of Pharmacy, Nagpur
Participation
Kolse Pooja Balasaheb
Mrs. Bhagyashri J. Warude
Role of pharmacist in community health diaster in pandemic disease for Covid-19 awareness
5/15/2020
Siddhant college of pharmacy, Pune
Participate
Kolse Pooja Balasaheb
Mrs. P. S. Sankpal
Online e-poster competition on COVID-19 Pandemic
6/25/2020
Vasantdevi Patil institute of pharmacy kodoli
Participate
Gundecha Gautam Sanjay
Dr. Sachin Tembhurne , Coordinator – Dr. Majid Khan
Medicinal chemistry online exam
5/18/2020
Loknete Dr J D Pawar College of Pharmacy, Kalwan, Nasik
Participation
Kolse Pooja Balasaheb
Ms. Sayali dudhal
Covid-19 the pandemic case
5/25/2020
G. S. Moze college of pharmacy, gsmcop@gmail.com
Participate
Kolse Pooja Balasaheb
Dr. A. A. Shirkhedkar
Covid-19
5/15/2020
R. C. Patel institute of education and research shirpur, kpkurankar@gmail.com
Participate
Tejas Athavale
Mr. Rahul Padalkar.
NPW (National Pharmacy Week) Competition Group Discussion
9/25/2019
NPW (National Pharmacy Week) Competition Group Discussion
1st Rank
Mr. Tejas Athavale
Dr. Mangesh Bhalekar.
NPW (National Pharmacy Week) Competition Interview Skills
9/26/2019
National Pharmaceutical Association Pune Branch
2nd
Ms.Komal Lahoti
Vidya Wable
MET Got Talent Painting
6/2/2020
MET college of pharmacy,Nashik
Participation
Yash Malu
Vidya Wable
Video Making And Short Film Competition on topic Shoot-'em-up: Salute To Corona Warrior
5/26/2020
Sandip Institute of Technology & Research Centre, Nashik.
Certificate of appreciation
Yash Malu
Vidya Wable
One minute video making on salute to our warrior
5/10/2020
Dr.D.Y.Patil institute of pharmaceutical science and research
Participation
Mr.Nitin Vitthal Thombre
Dr.Bhandari sir
Molecular Docking
6/14/2020
Dr.Anwar's Educational You Tube Channal
Participate
Kolse Pooja Balasaheb
Dr. Somanth De
National symposium on pharmacovigilance introduction and future aspects
6/20/2020
Narasaraopeta institute of pharmaceutical sciences
Participate
Kolse Pooja Balasaheb
Dr. Submit A. joshi
13th series webinar on Basis of reaserch
6/22/2020
Sharadchandra pawar college of pharmacy
Participate
Shubhangi Deshpande
Dr. S M Biradar
National level awareness quiz on Covid 19
5/9/2020
IQAC BLDEA's SSM College of Pharmacy
Participation
Kolse Pooja Balasaheb
Dr. Madhur Kulkarni
International webinar on biological the future of therapeutic and health care management
6/9/2020
Indira college of pharmacy
Participate
Kolse Pooja Balasaheb
Dr. B. Poornima
Molecular docking and in silico ADMET Prediction an overview
6/18/2020
Shree vidyaniketan college of pharmacy
Participate
Shubhangi Deshpande
Pradip Jadhav
Artificial intelligence and drug discovery
4/23/2020
SVERI College of Pharmacy, Pandharpur
Participation
Kolse Pooja Balasaheb
Dr. A. J. Shinde
Scope in clinical research and associates domain
6/2/2020
Bharati vidhyapith college of pharmacy Pune
Participate
Kolse Pooja Balasaheb
Dr. GSM Koteswara
Written a thesis for m pharm and b pharm
5/17/2020
MYBO GROUP
Participate
Kolse Pooja Balasaheb
Dr. C. K. Gandewar
course of Pharmacovigilance in industry
5/25/2020
P. Wadwani college of pharmacy, Pune
Participate
Kolse Pooja Balasaheb
Dr. Santosh U. Yele
Data science talk of town and drug development
5/8/2020
School of pharmacy and technology management
Participate
Kolse Pooja Balasaheb
Mr. Pradip jadhav
Artificial intelligence and drug discovery
5/9/2020
Shri vithak education and research institute college of pharmacy
Participate
Kolse Pooja Balasaheb
Dr. Mesh y jadhav
Carrier opportunity in clinical research and medical writing
5/17/2020
HSBPVTS, GOI, College of pharmacy, kashti
Participate
Pradip Chavan
Mangesh Bhalekar
Mangesh Bhalekar
6/19/2020
Anuradha college of Pharmacy, Chikhali, Dist Buldana
Appreciation / certificate
Pradip Chavan
Mangesh Bhalekar
Medicinal chemistry online quiz
5/18/2020
Loknete Dr J D Pawar college of Pharmacy, Kalwan, .
Certificate of participation
Saurabh Roham, Neha Sali and Shivam Jaiswal
Dr. Santosh V Gandhi
State level Pharma Quiz Championship
2/1/2020
Sitabai Thite College of Pharmacy, Shirur
Trophy, Certificates, Medals and First Prize of Rs. 5001/-
Mrunal More
Mangesh Bhalekar
online Poster competition on: Covid19: spread & prevention
5/15/2020
R.C. Patel Institute of pharmaceutical education and research, shirpur
Participation certificate
Ms. Shraddha Chaudhari, M. Pharm., QAT Department
Dr. Santosh V Gandhi
International Conference on Recent Trends in Chemometrics between 6-8th February 2020
2/8/2020
MIT-WPU
Third Prize Trophy and Certificate
Ms Shubhada Jagdale, M. Pharm., QAT Department
Dr. Santosh V Gandhi
International Conference on Recent Trends in Chemometrics between 6-8th February 2020
2/8/2020
MIT-WPU
Participated
Ms. Jyoti Galande, M. Pharm., QAT Department
Dr. Santosh V Gandhi
International Conference on Recent Trends in Chemometrics between 6-8th February 2020
2/8/2020
MIT-WPU
Participated
Pradnya Shirude, Manjushree Athavale
Mangesh Bhalekar
Avishkar 2019
1/12/2020
Savitribai Phule Pune University
Participation certificate ( 2nd Level)
Vrushali Pathak, Shraddha Chaudhari
Dr. Santosh V Gandhi
Online E-Poster Competition on "ROLE OF PHARMACIST IN PANDEMIC OF COVID-19"
5/10/2020
Shri Balasaheb Mane Shikshan Prasarak Mandal, Ambap Ashokrao Mane College of Pharmacy, Peth-Vadgaon
Participated
Krishna Wadekar and Pradnya Shirude
Mangesh Bhalekar
NPW Debate competition
9/27/2019
IPA Pune
1st prize
Namrata Rathod from First Year B. Pharm.
Dr. Santosh V Gandhi
Swaryantra Event
6/11/2020
BVP Poona College of Pharmacy, Pune
Selected in Top 5
Nirmala Rajpurohit, First Year B. Pharmacy
Dr. Santosh V Gandhi
"PHARMA'S GOT TALENT"
6/8/2020
MET's Institute of Pharmacy, Bhujbal Knowledge City, Nashik
Second Prize in Sketching Competition
Vrushali Pathak, Shraddha Chaudhari
Dr. Santosh V Gandhi
PHARMAFEST 2K20
3/14/2020
Yashoda Technical Campus, Satara
Participated
Vinay Sanjay Londhe
Dr. Santosh V Gandhi
Slogan Draft Competition
4/30/2020
AISSMS College of Pharmacy, Pune
Rank 3
Shivani Godbole
Mr. Rahul Padalkar
Pharma detailing
9/23/2019
Indian Pharmaceutical association, Pune branch
First Prize
Padvi Kalusing Sega
Dr. Shashikant V. Bhandari
E-poster competition
5/20/2020
P.S.G.V.P. Mandal's College of Pharmacy, Shahada
Participation
Gautam Sanjay Gundecha
Mrs.Swati Kolhe, Mrs.P.S.Sankpal
Online e-Poster Competition on COVID-19 Pandemic
5/31/2020
VASANTIDEVI PATIL INSTITUTE OF PHARMACY, KODOLI
Participation
Bhairavi Bakhle
Mr. Rahul Padalkar
NPW Pharma Detailing
9/23/2019
IPA Pune
Participant
Tejinder Kaur Marwaha
Dr. A.R.Madgulkar, Dr. M.R.Bhalekar
Avishkaar
1/21/2020
Savitribai Phule Pune University
University Level
Tejinder Kaur Marwaha
Dr.A.R.Madgulkar, Dr.M.R.Bhalekar
e- Poster Presentation
1/14/2020
Sinhgad College of Pharmacy
Winner
Atharva Kulkarni( Final year B pharm)

Samruddhi Kelkar( Third year B pharm)

Rahul Padalkar
SVB College of Pharmacy, Dombivli State level pharma quiz 2019-20
2/8/2020
Saraswati Vidya Bhawan College of Pharmacy , Dombivli
First position cash prize-10,000 rupees only
Riddhesh Kharche , Anish Panwalkar, Shivani Godbole
Mr.Rahul Padalkar
Young Pharmacist Innovative Project Award (YPIPA)
2/6/2020
Saraswathi Vidya Bhavan's College of pharmacy
Participation
Gundecha Gautam Sanjay
Dr.Mrinalini C Damle
Technical Lecture Series Webinar on "Testing Approaches"
5/22/2020
AISSMS COP PUNE
Participation
Gundecha Gautam Sanjay
Mybo group
Mybo webinar on "Writing a Thesis: For B.Pharm and M. Pharm Projects
5/17/2020
Mybo group
Participation
Pornima Kakade

Abhijit Valvi

Dr. Monica RP Rao
Extempore National Pharmacy Week
9/26/2019
D. Y. Patil, College of pharmacy, Pimpri
Participation
Gundecha Gautam Sanjay
Dr.Sachin Tembhurne
Webinar on "What's latest in HP-TLC"
5/20/2020
Anchrom Enterprises and AISSMS cop
Participation
Gundecha Gautam Sanjay
Prof. Nitpal Singh
PHARMEET 2020 National Conference on "Emerging Prospects in Pharmaceutical Industry"
2/8/2020
MITCON Institute of Management
Attending Conference
Rushikesh Dadabhau Shinde
Dr.Mithun Bandivadekar
University Level General Knowledge Quiz Competition
11/5/2019
Savitribai Phule Pune University
1st
1)Rushikesh Dadabhau Shinde

2)Aniket Ashokrao Kalaskar

3)Nishant Sanjay Kolhe

Dr.Mithun Bandivadekar
Pune District Level Inter-College Quiz Competition
10/15/2019
S.M.Joshi College, Hadapsar,Pune
1st Prize
Vrushali Pathak
Dr. Santosh V Gandhi
State Level Essay Competition
5/29/2020
SGMSPM's Dnyanvilas College of Pharmacy, Pune
Participated
Rohit Shivaji Kharade
Mr. Rahul R Padalkar
Avishkar
1/12/2020
Savitribai Phule Pune University
Participation
Vrushali Pradip Pathak. M. Pharm (Pharm. Chem.)
Dr. Santosh V Gandhi
Pharma Got Talent
6/3/2020
MET's Institute of Pharmacy, Nasik
Participated
Namrata R. Rathod, First Yr B. Pharm
Dr. Santosh V Gandhi
Online e poster competition on Role of Pharmacist in Pandemic of Covid 19
5/10/2020
Ashokrao Mane College of Pharmacy, Peth Vadgaon
Participated
Namrata R. Rathod, First Yr B. Pharm
Dr. Santosh V Gandhi
State Level Essay Competition
5/29/2020
SGMSPM's Dnyanvilas College of Pharmacy, Pune
Participated
Namrata R. Rathod, First Yr B. Pharm
Dr. Santosh V Gandhi
Essay, Article and Blog Competition
6/8/2020
BVP Poona College of Pharmacy
Participated
Sanket Basate
Reshma Mirajkar
Biopharmaceutics Made Easy Quize competition
6/21/2020
Pharma Quize Hub
Participation
Harshada Sunil lanjekar
Mrs.Swati kolhe.
1.Artificial intelligence and drug delivery course completed on 24/4/2020(Pandharpur), 2. Intellectual property awareness program on 26 april 2020(Sinhgad college of pharmacy,vadgaon,pune)
4/24/2020
Shree vitthal education and research institute college of pharmacy ,Pandharpur.
Participation
Dipali Rajaram Hanamghar
Dr. Sachin Tembhrne
Sanjivani Avishkar 2020
1/11/2020
sanjivaniavishkar2020@gmail.com
Participation
Rucha Munot, Shweta Khandare
Rucha Munot
Poster presentation
11/19/2019
SNJB Nashik
Participation
Gangadhar Kedar & Naresh Choudhary
Dr. Sachin Tembhrne
Sanjivani Avishkar 2020
3/15/2020
Sanjivani College of Pharmacy, Kopargaon.
2 Rank at National Level Competition
Gangadhar Kedar & Naresh Choudhary
Dr. Sachin Tembhrne
Sanjivani Avishkar 2020
3/15/2020
Sanjivani College of Pharmacy, Kopargaon.
2 Rank at National Level Competition
Gangadhar Kedar & Naresh Choudhary
Dr. Sachin Tembhrne
Avishkar 2020
2/23/2020
SPPU, PUNE
Participation at University level
Valvi Abhijeet
DR.Monica RP Rao
E-Poster presentation
6/17/2020
Dr.D.Y.Patil Institute of Pharmaceutical Science and Resarch. Pimpari
Secured First position (winner)
Valvi Abhijeet
DR. Monica RP Rao
E-Poster presentation
6/17/2020
Dr.D.Y Patil Institute of Pharmaceutical Science and Research , Pimpri
Secured First position
Anup Deshmukh
Dr.Sachin Tembhurne and MS Swati Kolhe
E-poster competition
2/14/2020
Sihagadh Institute of pharmacy
Participants
Kolse Pooja Balasaheb
Mrs. Swati kolhe
National level e poster competition on COVID-19
5/15/2020
R. C. Patel institute of pharmaceutical education and research shirpur
Participation certificate
Kolse Pooja Balasaheb
Dr. S. V. Tembhurne
Online e-poster competition on COVID-19 Pandemic
5/25/2020
Vasantdevi Patil institute of pharmacy, kodoli
Participation certificate
Kolse Pooja Balasaheb
Dr. Tina saldanha
E poster competition on role of pharmacist in community health diaster in pandemic disease for Covid-19
5/15/2020
Siddhant college of pharmacy Pune
Participation certificate
Kolse Pooja Balasaheb
Ms. Swati kolhe
E poster competition on role of pharmacist fighting against Covid-19 pandemic
6/10/2020
Hamadard education and charitable trust
Participation certificate
Jyoti S. Galande
Dr. Santosh V Gandhi
State level seminar on Systematic Approach to Spectral Interpretation
2/9/2020
Seth Govind Raghunath Sable College of Pharmacy, Saswad
Participation and Presentation
Kolse Pooja Balasaheb
Dr. Sachin tembhurne
Covid-19 the pandemic case e poster competition
5/25/2020
G. S. Moze college of pharmacy wagholi, pune
Participation certificate
Priyanka M Pardeshi
Dr. Santosh V Gandhi
SPPU sponsored state level seminar on Systematic Approach to Spectral Interpretation
1/9/2020
Seth Govind Raghunath Sable College of Pharmacy, Saswad
Participation and Presentation of Research Work
Mohini S More
Dr. Santosh V Gandhi
SPPU sponsored national workshop on "Exploring the Current Advancement in Chromatographic Techniques"
1/19/2020
Dr. D.Y. Patil Institute of Pharmaceutical Sciences and Research. Pimpri, Pune-411018 between 18-19 January 2020
Participation and Presentation of Research Work
Kolse Pooja Balasaheb
Dr. Tina saldanha
Nutraceutical Herbal industry global and prospective opportunity
5/9/2020
Rajashri shahu college of pharmacy
Participation certificate
Shradha P Chaudhari
Dr. Santosh V Gandhi
SPPU sponsored national workshop on "Exploring the Current Advancement in Chromatographic Techniques"
1/19/2020
Dr. D.Y. Patil Institute of Pharmaceutical Sciences and Research. Pimpri, Pune-411018 between 18-19 January 2020
Participation and Presentation of Research Work
Kolse Pooja Balasaheb
Dr. Sachin Tembhurne
National level e poster competition
2/14/2020
Sinhgad institute of pharmacy narhe pune
Participation certificate
Kolse Pooja Balasaheb
Ms. Swati kolhe
Two days national level conference
2/16/2020
Sinhgad college of pharmacy Pune
Participation certificate
Kolse Pooja Balasaheb
Dr. Tina saldanha
National symposium on pharmacovigilance introduction and future aspects
6/20/2020
Narasaraopeta institute of pharmaceutical sciences
Participation certificate
Kolse Pooja Balasaheb
Dr. Sachin tembhurne
International webinar on biological the future therapeutic and health care management
6/9/2020
Indira college of pharmacy
Participation certificate
Kolse Pooja Balasaheb
Ms. Swati kolhe
Scope in clinical research and domain
6/2/2020
Bharti vidhyapith college of pharmacy, Kolhapur
Participation certificate
Kolse Pooja Balasaheb
Dr. Sachin tembhurne
Online short term course in pharmacovigilance in industry
5/30/2020
P. Wadwani college of pharmacy Yavatmal
Participation certificate
Kolse Pooja Balasaheb
Dr. Tina saldanha
Data science talk of town and future of drug development
5/8/2020
School of pharmacy and technology management NMIMS Hyderabad
Participation certificate
Kolse Pooja Balasaheb
Ms. Swati kolhe
Molecular docking and in silico ADMET
6/18/2020
Development of pharmaceutical analysis Shree vidyaniketan college of pharmacy
Participation certificate
Kolse Pooja Balasaheb
Dr. Sachin tembhurne
Carrier opportunity in clinical research and medical writing
5/17/2020
Shri babanrao pachpute vichardhara trust GRP college of pharmacy kashti
Participation certificate
Gundecha Gautam Sanjay
Dr. Sachin Tembhurne
Online National Pharma Quiz
4/29/2020
Smt. Kishoritai Bhoyar College of Pharmacy, Kamptee, Nagpur
Participation
Gundecha Gautam Sanjay
Dr. Sachin Tembhurne
Medicinal chemistry online exam
5/18/2020
Loknete Dr J D Pawar College of Pharmacy Kalwan , Nasik
Participation
Gundecha Gautam Sanjay
Dr. Tina Saldanha
GPAT Quiz
5/24/2020
Shri Vishweshwar Shikshan Prasarak Mandal's Shivlingeshwar College of Pharmacy Almala, Tq. Ausa, Dist. Latur
Participation
Gundecha Gautam Sanjay
National Level E-Quiz Competition on Pharmacology
6/21/2020
H. R. Patel Institute of Pharmaceutical Education and Research, Shirpur
Participation
Kolse Pooja Balasaheb
Writing a thesis for B. Pharm and M. Pharm project
5/17/2020
MYBO group
Participation certificate
Kolse Pooja Balasaheb
Pediatric drug development
5/9/2020
School of pharmacy and technology management SVKMS HYDERABAD
Participation certificate
Kolse Pooja Balasaheb
Artificial intelligence and drug discovery
4/5/2020
Shri vithal education and research institute college of pharmacy pandharpur
Participation certificate
Gundecha Gautam Sanjay
"Pharma Quiz 2020 – PHARMACIST'S ROLE IN PHARMACEUTICAL CARE"
6/25/2020
SSM College of Pharmacy, Pune
Participation
Kolse Pooja Balasaheb
Technical transport industrial perspective
5/17/2020
Bharti vidhyapith college of pharmacy Kolhapur
Participation certificate
Gundecha Gautam Sanjay
State Level Essay Competition
5/26/2020
SHRI GAJANAN MAHARAJ SHIKSHAN PRASARAK MANDAL's DNYANVILAS COLLEGE OF PHARMACY Dudulgaon, PCMC, Pune
Participation
Kolse Pooja Balasaheb
Dry powered inhaler challenges and opportunities
6/26/2020
Sharadchandra pawar college of pharmacy pune
Participation certificate
Kolse Pooja Balasaheb
Role of technology in higher education
6/25/2020
Sharadchandra pawar college of pharmacy Pune
Participation certificate
Kolse Pooja Balasaheb
Basis of research
6/22/2020
Sharadchandra pawar college of pharmacy Pune
Participation certificate
Gundecha Gautam Sanjay and Kolse Pooja Balasaheb
National Level E- presentation Competition
5/20/2020
Valmik Naik College of Pharmacy, Telwadi Kannad
Participation
Gundecha Gautam Sanjay and

Kolse Pooja Balasaheb

E-Poster Competition on "Role of Pharmacist in community health disaster in Pandemic Diseases"for the COVID-19 AWARENESS.
5/20/2020
Siddhant College of Pharmacy, Talegaon, Pune
Participation
Gundecha Gautam Sanjay and Kolse Pooja Balasaheb
" THE PANDEMIC CASE "e-Poster designing competition
5/25/2020
GENBA SOPANRAO MOZE TRUST'S GENBA SOPANRAO MOZE COLLEGE OF PHARMACY WAGHOLI
Participation
Gundecha Gautam Sanjay
e-Poster Competition on: Roles of Pharmacists in Fighting Against COVID-19 Pandemic
6/10/2020
Hamdard Educational and Charitable Trust (R), Hubli
Participation
Gundecha Gautam Sanjay
"Online e- Poster Competition on COVID – 19 Pandemic"
5/25/2020
Shree Yashwant shikshan prasarak mandal's VASANTIDEVI PATIL INSTITUTE OF PHARMACY, KODOLI
Participation
Kolse Pooja ,

Gundecha Gautam

National level e presentation on the topic of COVID-19 overview
5/20/2020
Valmik Naik college of pharmacy telwadi, kannad
Participation certificate
Gundecha Gautam Sanjay
Online E-poster Competition
5/2/2020
Ashokrao Mane College of Pharmacy, Pune
Participation
Gundecha Gautam Sanjay and Kolse Pooja Balasaheb
National Level e-Poster Competition
5/20/2020
Dr. Rajendra Gode College of Pharmacy, Pune
Participation
Gundecha Gautam Sanjay and Kolse Pooja Balasaheb
National level e- Poster competition on "COVID-19"
5/15/2020
R.C. Patel Institute of Pharmaceutical Education and Research
Participation
Gunmdecha Gautam Sanjay and Kolse Pooja Balasaheb
National Level e- Poster Competition
2/14/2020
Sinhgad College of Pharmacy, Pune
Participation
Gundecha Gautam Sanjay
National Webinar on "Molecular Docking and In-Silico ADMET: An Overview
6/18/2020
Sree Vidyaniketan College of Pharmacy, Sree Sainath Nagar, Tirupati
Participation
Gundecha Gautam Sanjay
Webinar on Recent Advances in Drug Design: State of the Art Tools for Drug Design and Drug Discovery
6/23/2020
JSS College of Pharmacy, Ooty
Participation
Gundecha Gautam Sanjay
International Webinars under Faculty Development Program on "Current Scenario: Pharmacy Practice and Technology"
6/17/2020
AISSMS College of Pharmacy, Pune
Participation
Gundecha Gautam Sanjay
Technical Lecture Series Webinar on "Testing Approaches"
5/22/2020
AISSMS College of Pharmacy, Pune
Participation
Gundecha Gautam Sanjay
Mybo Webinar on "Writing a Thesis: For B.Pharm and M.Pharm Projects"
5/17/2020
Mybo Group
Participation
Gundecha Gautam Sanjay
Two days National Level Seminar
2/13/2020
Sinhgad College of Pharmacy, Pune
Participation
Gundecha Gautam Sanjay and Kolse Pooja Balasaheb
PHARMEET 2020 National Conference On "Emerging Prospects in Pharmaceutical Industry"
2/8/2020
MITCON Institute of Management
Participation
Gundecha Gautam Sanjay
Webinar on "Current Opportunity in Drug Evaluation/Drug Safety/Clinical Trials for Pharmacist"
5/30/2020
G.S.Moze College Of Pharmacy Baif Road, Wagholi, Pune
Participation
Gundecha Gautam Sanjay
Webinar on "What's latest in HP-TLC"
5/20/2020
AISSMS College of Pharmacy, Pune
Participation
Gundecha Gautam Sanjay
National level quiz competition
7/1/2020
Sun institute of pharmaceutical education and research
64% Score
Kalyani Ambadas Shinde
Rahul R Padalkar
18th International Symposium on Advances in Technology and Business Potential of New Drug Delivery System
28/02/2020- 29/02/2020
Controlled release society indian local chapter
participation
Kalyani Ambadas Shinde
Rahul R Padalkar
Two days National level seminar of Process Scale up , Validation and Technology Transfer
10/01/2020-11/01/2020
Sinhgad Technical Education Society's Smt. Kashibai Navale college of pharmacy,Kondhwa,Pune.
participation
Kalyani Ambadas Shinde
Rahul R Padalkar
National level seminar on Indian Regulatory System
03/03/2020
Sinhgad Technical Education Society's Sinhgad institute of Pharmacy,Nrhe
participation
Kalyani Ambadas Shinde
Rahul R Padalkar
Two days webinar on Pharmacist: Accelerator for Covid 19 Challenges
15/05/2020-16/05/2020
GS Moze Trust's GENBA SOPANRAO MOZE college of pharmacy Wagholi,pune
participation
Kalyani Ambadas Shinde
Rahul R Padalkar
National level webinar on Intellectual Property rights and Generic Pharmaceutical Industry
24-05-2020
AISSMS College of Pharmacy Pune
participation
Kalyani Ambadas Shinde
Rahul R Padalkar
International Webinar on Current Scenario: Pharmacy Practice and Technology
17/06/2020-21/06/2020
AISSMS College of Pharmacy Pune
participation
Kalyani Ambadas Shinde
Rahul R Padalkar
National Webinar on the topic Recent advances in Nanoparticulate Drug Delivery system
30/05/2020
Dr. Rajendra Gode Institute of Pharmacy Amravati
participation
Kalyani Ambadas Shinde
Rahul R Padalkar
Mybo Webinar on Writing a Thesis: for B.Pharm and M. Pharm Projects
17/05/2020
Mybo Group
participation
Students' Achievements 2018-19
Sr. No.
Name of the student and class
Name of the guide/co-ordinator
Name of the event, date and place
Achievement/
rank/
participation
Remark
If any
1.
Ashwini Deokar  Riddhi Wavhal

TY B Pharm

Dr. M R Bhalekar
4th  MET Rxplore 2019

9th February 2019

Runner up
2.
Siddhant Bhalerao and Dnyanda Bathe

Final Year

B Pharm

Dr. M R Bhalekar
Synapse 2018

16th October 2018

2nd prize
3.
Mr. Vaibhav Ghegade (Final Year B.Pharm)

Mr Surabh Jadhav

(Final Year B.Pharm)

Mr Atharva Kulkarni

(T.Y .B.Pharm)

Mr Sajid Sande

(T.Y .B.Pharm)

Mrs K. D Asgaonkar

Mrs S.M Patil

SYNAPSE, 16th October ,2018,

AISSMS COP

Winner in UG category
Cash prize, certificates, trophy
4.
Mr Vaibhav Ghegade, (Final Year B.Pharm)

Mr.Siddhant Bhalerao

(Final Year B.Pharm)

Mr. Atharva Kulkarni

(Third Year B.Pharm)

Dr M.C Damle

Mrs K.D Asgaonkar

IPA National Pharma quiz 2018

Indian Pharmaceutical Association-AP State Branch Headquarters at Chebrolu Hanumaiah Institute of Pharmaceutical Sciences (CHIPS), Chandramoulipuram, Guntur-, Andhra Pradesh on 8th Dec 2018.

Second rank in final round (AIR)
 Cash prize of Rs. 10,000/-, individual mementos, certificate of merit and trophy to college.
5.
Mr Saurabh Rohom

(Third Year B.Pharm)

Ms Prerna Salunkhe

(Final Year B.Pharm)

and Ms Brinda Nadar

(Third Year B.Pharm)

Dr M.C Damle

Mrs K.D Asgaonkar

IPA National Pharma quiz 2018

Indian Pharmaceutical Association-AP State Branch Headquarters at Chebrolu Hanumaiah Institute of Pharmaceutical Sciences (CHIPS), Chandramoulipuram, Guntur-, Andhra Pradesh on 8th Dec 2018.

44th in the preliminary round amongst 225 pharmacy colleges
6.
Vaibhav Ghegade (Final Year B.Pharm), Atharva Kulkarni (T Y B. Pharm)

Mr. Rahul R Padalkar
Pharma Quiz

7th March 2019

SVB's College of Pharmacy, Dombiwali

Winner
Cash Prize of Rs. 10,000/-
7.
Anish Panwalkar,

Ashutosh Mahamuni

(Both

S Y B Pharm)

Mr. Rahul R Padalkar
Young Pharmacist Innovative Project Award

7th March 2019

SVB's College of Pharmacy, Dombiwali

Winner
Cash Prize of Rs. 15,000/-
8.
Anish Panwalkar
Mr. Rahul R Padalkar
Students Parliament

January 2019

Selected for District Level
9.
Nazneen Pathan,

PreranaSalunke,

SnehalSalunke,

Nikita Tapkir

Mr. Rahul R Padalkar
AVISHKAR 2018-19

Dr. D. Y. Patil College of Arts, Science and Commerce, Akurdi.

2nd Level Participation
10.
Akshay Punamiya,

Laxmi Chaudhari

Mrs. A.N. Avalaskar
AVISHKAR 2018-19 (2nd Level)

Dr. D. Y. Patil College of Arts, Science and Commerce, Akurdi.

2nd Level Participation
11.
Shagufta Shaikh,

Sumedh Pradhan,

Pradnya Shirude,

Tejal Gangwal

Dr. M. R. Bhalekar
AVISHKAR 2018-19 (2nd Level)

Dr. D. Y. Patil College of Arts, Science and Commerce, Akurdi.

2nd Level Participation
12.
Dhavale Kalyani,

Amale Sushant

Mrs. Reshma N Mirajkar

Dr. Ashwini R Madgulkar

AVISHKAR 2018-19 (2nd Level)

Dr. D. Y. Patil College of Arts, Science and Commerce, Akurdi.

2nd Level Participation
13.
Mrunal Vaidya (M.Pharm)
DR. S.V.Bhandari
NPW 2018

Essay Competition

AISSMS College of

Pharmacy, Pune.

28/09/2018

Winner
14.
Nimishraj Panse

(Final yr)

Dr. M.R.Bhalekar
NPW 2018

Interview Skill

PDEA Seth Govind

Raghunath Sable

COP,Saswad.

28/09/2018

Winner
15.
Shivani  Choudhary and Komal Pordshil

(M.Pharm)

K.D.Asagaonkar
NPW 2018

Group Discussion Competition

Dr.D.Y.Patil Institute of

Pharm Sci & Research,

Pimpri

29/09/2018

Winner
16.
Atharva Kulkarni (TY) Vaibhav Ghegde (Final yr)
Dr. Trupti Chitre
NPW 2018

Quiz Competition

Alard COP, Hinjewadi

28/09/2018

Winner
17.
Gaurav Patil, Pooja Pawar (M.Pharm)
Dr. M.C.Damle
NPW 2018

Poster presentation

JSPMs Jayawant

Institute of Pharmacy,

Tathawade (Diploma)

01/10/2018

Runner up
18.
Anish Panawalkar (S.Y)
Dr. Mithun Bandivadekar
NPW 2018

Extempore Competition

MCE Society's Institute

of Pharmacy

(Diploma),Camp,Pune

26/09/2018

Winner
19.
Vaibhav Ghegde  (Final yr)

Atharva Kulkarni (TY)

Kabra Kajal (M.Pharm)

Mrs. Shital Patil
NPW 2018

General Apptitude Competition

Sinhgad Institute of

Pharmacy, Narhe.

27/09/2018

Winner

Runner up

Winner

20.
Bhairavi Bakhale (FY)
Mr. Rahul R. Padalkar
NPW 2018

Pharma Detailing Competition

29/09/2018

Indrayani Institute of Pharm Edu & Research,Talegaon Dabhade,Tal.Mawal

Winner

21.
Avachat Madhura
All teaching staff
GRE, TOEFL
Qualified
AIR: 288
22.
Bhalerao Siddhant
All teaching staff
GPAT
Qualified
AIR: 1350
23.
Bharati Pranoti
All teaching staff
GRE, TOEFL
Qualified
Score: 6.5
24.
Choudhary Vimla
All teaching staff
GPAT
Qualified
AIR: 481
25.
Ghegade Vaibhav
All teaching staff
GPAT
Qualified
AIR:3
26.
Ingole Gauri
All teaching staff
NMAT
Qualified
Score: 47.2
27.
Khaladkar Atharva
All teaching staff
IELTS
Qualified
Score: 7.0
28.
Mhamane Shruti
All teaching staff
GPAT
Qualified
AIR: 4100
29.
Mulay Atharva
All teaching staff
NMAT
Qualified
AIR:17275
30.
Panse Nimishraj
All teaching staff
GRE, TOEFL
Qualified
324
31.
Pathan Nazneen
All teaching staff
GPAT
Qualified
AIR:1662
32.
Patil Pramod
All teaching staff
GPAT
Qualified
AIR:1612
33.
Salunke Prerana
All teaching staff
GPAT
Qualified
AIR:393
34.
Salve Shushmita
All teaching staff
GPAT
Qualified
AIR:9505
35.
Shinde Smruti
All teaching staff
GPAT
Qualified
AIR:6523
36.
Tapkir Nikita
All teaching staff
GPAT
Qualified
AIR:946
37.
Roshani Pardeshi
All teaching staff
GPAT
Qualified
AIR:2185
38.
Upasani Shrushti
All teaching staff
GPAT
Qualified
AIR:744
39.
Kalisingh Padavi
All teaching staff
GPAT
Qualified
AIR:12614
40.
Nitin Thombre
All teaching staff
GPAT
Qualified
AIR:2358
Students' Participation 2018-19
Sr. No.
Name of the student and class
Name of the guide/co-ordinator
Name of the event, date and place
Achievement/
rank/participation
Remark
If any
1.
Neha Sali Third Year B.Pharm
Dr. Mithun Bandivadekar
SPPU University Level Youth Festival 2018-19
Participation
2.
Shri Ram Bhobe Third Year B.Pharm
Dr. Mithun Bandivadekar
SPPU University Level Youth Festival 2018-19
Participation
3.
UG: Shrushti Upasani,   Roshani Pardeshi

PG: Prinkle Ramteke

Dr. S.V. Bhandari
NPW 2018

Essay Competition

AISSMS College of
Pharmacy, Pune.

28/09/2018

Participation
4.
UG: Makarand Somwanshi, Shruti Karad, Shivanjali Jadhav, Ayush Thole, Sagarika Dhamne, Shubham Naikawadi, Tushar Jadhav

PG: Shweta Khandare, Rucha Munot, Rutuja Pawar,Shubham Lavhe, Aniket Ithape, Nitin Thombre, Sadichha Wani, Sayali Sheth

V.N. Wable
NPW 2018

Pharma Mad Add

Poona College of

Pharmacy,BVDU,

Erandwane, Pune. 01/10/2018

Participation
5.
UG:, Anish Panwalkar
Dr. M.R. Bhalekar
NPW 2018

Interview Skills

PDEA Seth Govind
Raghunath Sable
COP,Saswad.

28/09/2018

Participation
6.
UG: Vaibhav Ghegade, Anish Panwalkar, Atharva Kulkarni, Samrudhhi Pande

PG: Shweta Khandare, Aniket Ithape

K.D. Asagaonkar
NPW 2018

Group Discussion Dr.D.Y.Patil Institute of Pharm Sci & Research, Pimpri

29/09/2018

Participation
7.
PG: Hrutuja Wagh, Shivani Choudhary
Dr. T.S.Chitre
NPW 2018

Quiz Alard COP, Hinjewadi

28/09/2018

Participation
8.
PG: Mrunal Vaidya, Nishigandha Yadav
Dr. S.V.Gandhi
NPW 2018

Paper Presentation

M. M. College of
Pharmay, Thergaon,
(Kalewadi) Pune.
27/09/2018

Participation
9.
UG: Atharva Kulkarni
Dr. MRP Rao
NPW 2018

Elocution Indira College of
Pharmacy,  Tathawade  01/10/2018

Participation
10.
UG: Arati Ombase, Brinda Nadar
Dr. M.C. Damle

NPW 2018

Poster Presentation

JSPMs Jayawant

Institute of Pharmacy,
Tathawade (Diploma)

01/10/2018

Participation
11.
UG: Shriram Bobhe
Dr. M.M. Bandiwadekar

NPW 2018 Extempore

MCE Society's Institute
of Pharmacy

(Diploma),Camp,Pune

26/09/2018

Participation
12.
UG: Siddhant Bhalerao, Gaidhani Atharva

PG: Dhawale Kalyani, Amle Sushant, Kulkarni Sayali, Zope Abhishek, Godase Mayuri

R.R. Padalkar
NPW 2018

Whtsapp Best Quote

MCE Society's Allana
College of Pharmacy,

Pune.

29/09/2018

Participation
13.
PG: Sumedh Pradhan,
S.M. Patil

NPW 2018

General Aptitude

Sinhgad Institute of
Pharmacy, Narhe.

27/09/2018

Participation
14.
UG:  Hrushikesh Sambhare

PG: Pradnya Shirude

R.R. Padalkar
NPW 2018

Pharma Detailing

Indrayani Institute of Pharm Edu & Research,Talegaon Dabhade,Tal.Mawal 29/09/2018

Participation
15.
Laxmi Chaudhary

(T. Y B.Pharm)

A.N Avalaskar
AVISHKAR 2018/Synapse/ METRXPLORE

Participation
16.
Akshay Punamiya

(T. Y B.Pharm)

A.N Avalaskar
Synapse 2018
Participation
17.
Akshay Punamiya

(T. Y B.Pharm)

A.N Avalaskar
METRXPLORE

Participation
18.
Ram Polawar

(T. Y B.Pharm)

A.N Avalaskar
METRXPLORE
Participation
19.
Sheetal Ranvare

(T. Y B.Pharm)

A.N Avalaskar
METRXPLORE
Participation
20.
Kiran Honkalas

(T. Y B.Pharm)

A.N Avalaskar
Synapse 2018
Participation
21.
PG: Anand Singhal

(M.Pharm 2nd yr )

Dr. MRP Rao
70th IPC 2018

Poster presentation

Participation
22.
PG: Anand Singhal

(M.Pharm 2nd yr )

Dr. M.C. Damle

APTICON 2018

Poster presentation

Participation
Rahul R Padalkar                                                                                                              Dr. Ashwini R Madgulkar
---
Students Achievements 2017-18:
YIN Elections: Mr. Ashish Khade was elected as college representative for Young Inspirator's Network. The voting was conducted on 7th Sept and results were announced after counting on 8th Sept 2017.
Students have participated in various competitions throughout the year and achieved various prizes as follows:
Sr. No.
Name of the student and class
Name of the guide/co-ordinator
Name of the event, date and place
Achievement/rank/participation
1
Aman Padamsey and Pratiksha Deodhar
Mr. Rahul R Padalkar

Dr. Santosh V Gandhi

Avishkar
Reached University level
2
Vaibhav Ghegade
Mr. Rahul R Padalkar
Pharmacdetailing competition at Techmanthan, JSPM's Institute of Pharmacy, Pune. 24th Jan 2018
Winner with cash prize of Rs. 3000/-
3
Nimish Panase
Mr. Rahul R Padalkar
Debate competition at Cynosure, Charak College of Pharmacy, Pune. 23rd Jan 2018
Winner with cash prize of Rs. 3000/-
4
Aman Padamsey and Shruti Lohokare
Mr. Rahul R Padalkar
Quiz competition at Techmanthan, JSPM's Institute of Pharmacy, Pune. 24th Jan 2018
Winner with cash prize of Rs. 3000/-
5
Aman Padamsey, Pratiksha Deodhar, Shruti Lohakare, Vaibhav Ghegade
Dr. Mrinialini Damle/         Mrs. Kalyani Asgaonkar/      Dr. Shashikant Bhandari
IPC Quiz on 10th Dec 2017-12-11 at Vizag
Second Prize
6
Aman Padamsey and Vaibhav Ghegade
Mr. Rahul R Padalkar
SVB College of Pharmacy, Dombiwali organized state level PharmaQuiz competition 8th February 2018
Winner with cash prize of Rs 10,000/-
7
Anish Panwalkar
Mr. Rahul R Padalkar
SVB College of Pharmacy, Dombiwali organized state level Elocution competition 8th February 2018
Winner with cash prize of Rs 3,000/-
8
Shruti Lohokare and Pratiksha Deodhar
Mr. Rahul R Padalkar
SVB College of Pharmacy, Dombiwali organized state level PharmaQuiz competition 8th February 2018
Third Rank with cash prize of Rs. 2500/-
9
Shruti Lohokare
–
Graduate Aptitude Test in Pharmacy GPAT 2018
All India Rank 9
10
Pratiksha Deodhar
–
Graduate Aptitude Test in Pharmacy GPAT 2018
All India Rank 304
11
Megha Gadhewar
–
Graduate Aptitude Test in Pharmacy GPAT 2018
All India Rank 377
12
Jyoti Galande
–
Graduate Aptitude Test in Pharmacy GPAT 2018
Qualified
13
Hrishikesh Sonaikar
–
Graduate Aptitude Test in Pharmacy GPAT 2018
All India Rank 377
14
Chaitali Shah
–
Graduate Aptitude Test in Pharmacy GPAT 2018
Qualified
15
Tejas Athavale
–
Graduate Aptitude Test in Pharmacy GPAT 2018
Qualified
16
Surekha Kadam
–
Graduate Aptitude Test in Pharmacy GPAT 2018
Qualified
17
Diksha Dube
–
Graduate Aptitude Test in Pharmacy GPAT 2018
Qualified
18
Manju Choudhari
–
Graduate Aptitude Test in Pharmacy GPAT 2018
Qualified
19
Pranali Shelar
–
Graduate Aptitude Test in Pharmacy GPAT 2018
Qualified
20
Mr. Saurabh Jadhav
Mrs. K.D. Asgaonkar Mrs. S. M. Patil
METERXPLORE 2018 poster presentation competition held at MET Bhujbal Knowledge city institute of pharmacy, Nashik on 17th February 2018.

Consolation Prize
21
Mr. Saurabh Jadhav, Mr. Vaibhav Ghegde Mr. Atharva Kulkarni, Mr. Sajid Sande
Mrs. K.D. Asgaonkar Mrs. S. M. Patil
AISSMS COP in the month of  February 2018.
Best Inhose Research project award

IPA – 69th IPC National Pharma quiz 2017