Research Advisory Committee (RAC) of AISSMS college of Pharmacy was established to streamline and support the research effort of staff members and students. The Principal is the chairman of the committee and different staff members from various subject domains are included to provide help with their acumen.
The composition of RAC is as below :
Primary Role:
The primary role of the Research Advisory Committee is to advise and support the development, implementation, review and dissemination of all research and evaluation activities .
Functions of the Research Advisory Committee are:
Provide advice and support on the commissioning and implementation of research and evaluations.
Apprise faculty of various research grants and awards.
To review the research proposal and finalize the topic of research.
Review progress of sponsored research in institute.
To look after research metrics of institutes.
Look after any requirement of seed money.
Advise on the dissemination of research and evaluation findings and conclusions,
To periodically review and assist in the progress of the research work of the research scholar.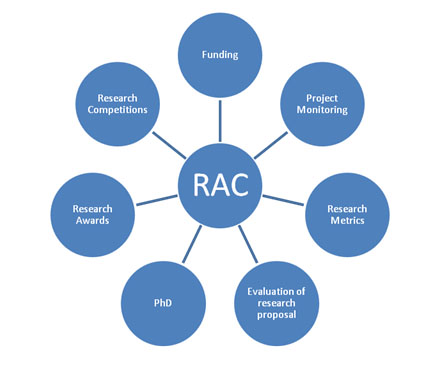 Outcomes:
Interdisciplinary research protocol is framed.
AICTE Funded RPS Projects award (Dr.Ashwini R.Madgulkar,Dr.M.R.Bhalekar and Dr.S.V.Bhandari )
Various BCUD SP Pune University Projects have been sanctioned.
Rajanibhai Patel, Best Thesis award was received on national level (sponsored by DST and Troika pharmaceuticals) in Pharmaceutics under guidance of Dr. Ashwini R.Madgulkar to Ms Amrita Dikpati.
Best Research Publication award was received by Dr.M.R.Bhalekar.
Dr.P.D.Sethi , Best Research Publication award was received by Dr.M.C.Damle.
Team of Mr.Anish Panwalkar and Mr. Ashutosh Mahamuni under guidance of Dr.Rahul Padalkar Secured State level 2nd position in Avishkar and they won National level 3rd recognition in Anveshan completion organized by Savitribai Phule Pune University. They were provided with the seed money for the project by the college.
Research Publications in impact factor Journals.
Award to students in National Level competitions organized by Metexpolre,saraswati vidyamandir Dombivali, institute of Chemical Technology, Mumbai
Organization of state level UG and PG research competition 'Synapse2019'
11. MOU with Geniobrain IP Solutions for conduction of course in Intellectual Property Rights.