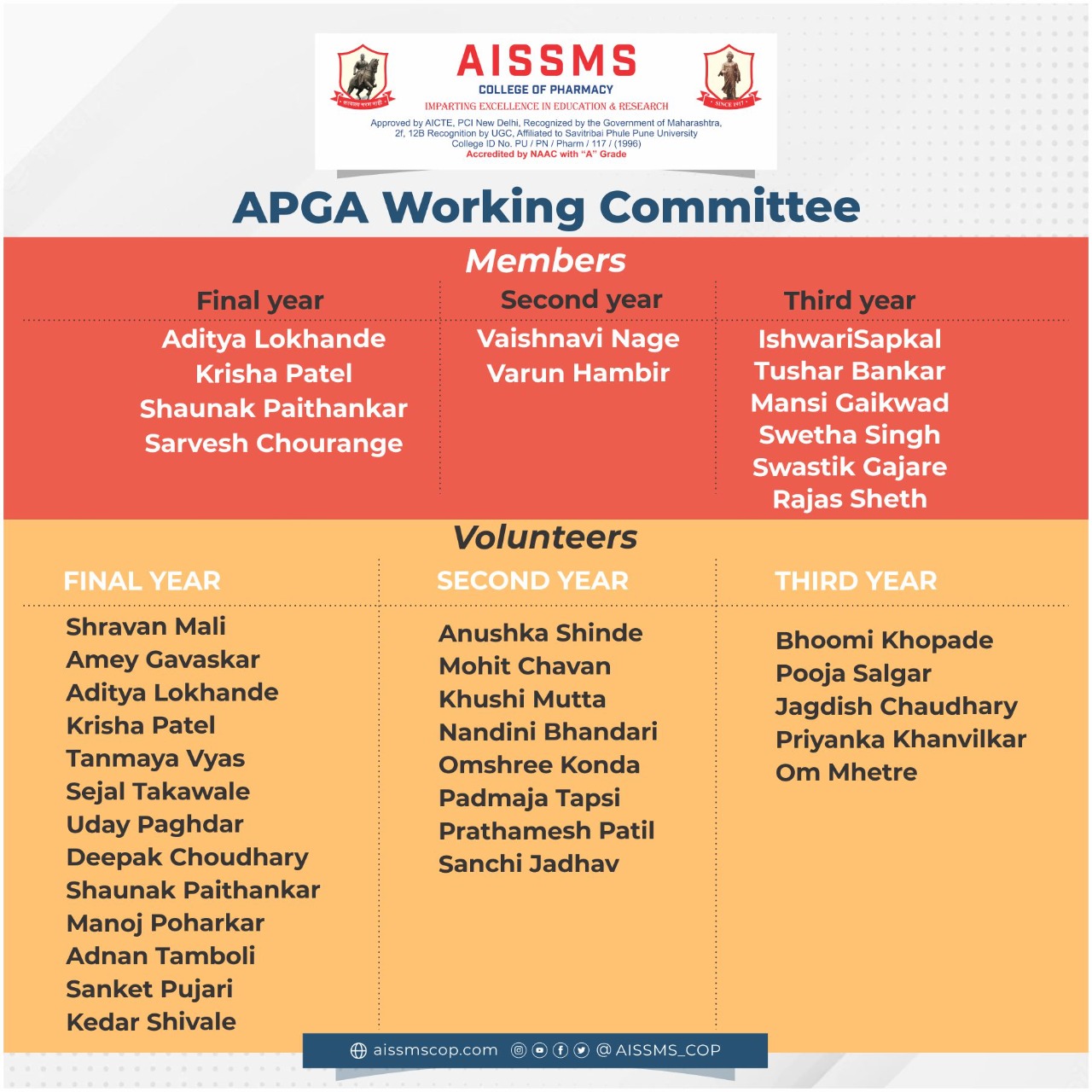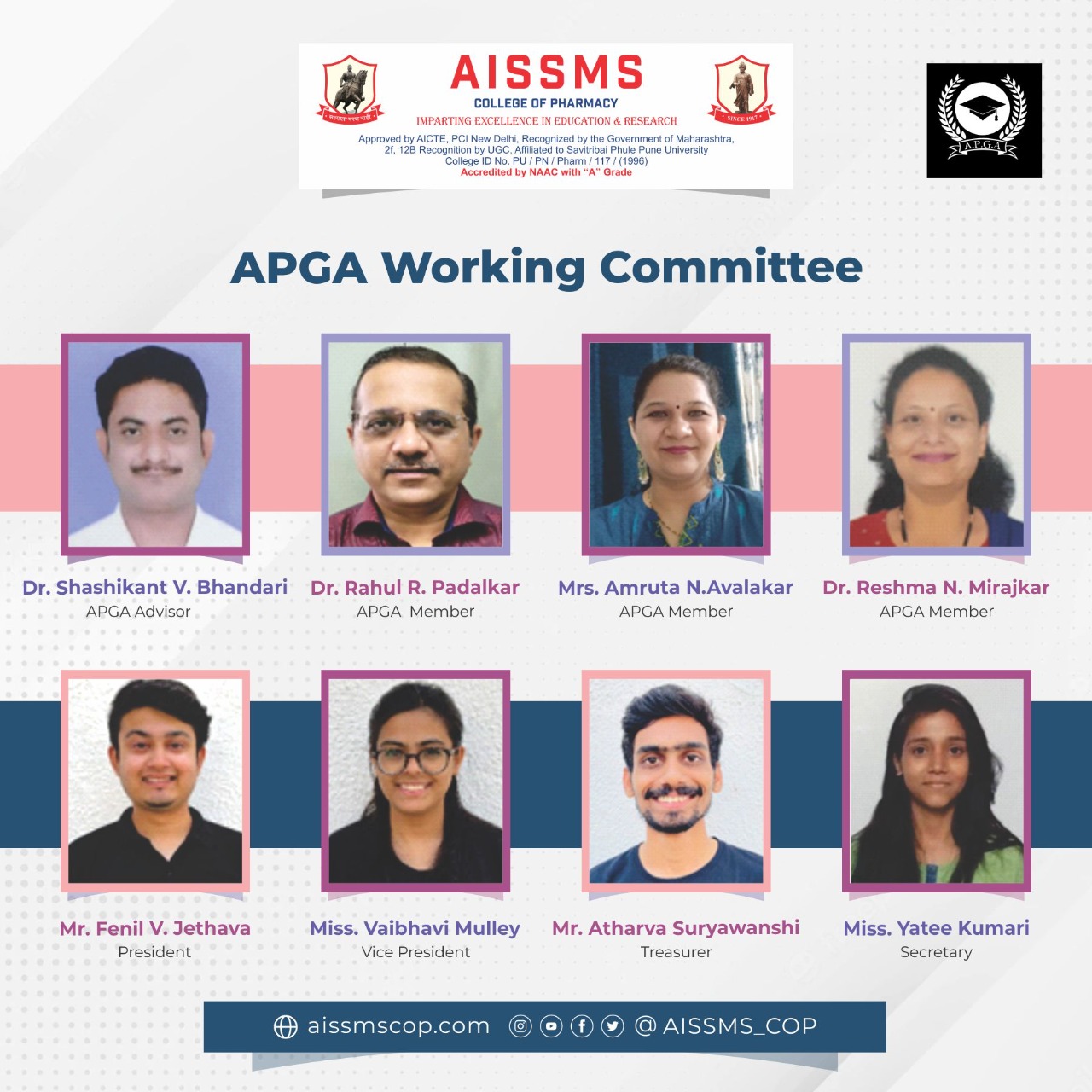 APGA WORKING COMMITTEE 2020-21
ADVISOR: Dr. Shashikant V. Bhandari
MEMBERS: MR.R.R.PADALKAR,  MRS.A.N. AWALASKAR, MRS.R.N.MIRAJKAR
PRESIDENT  : Ayush Thole
VICE PRESIDENT : Ravina Khandelwal
SECRETARY : Shivani Godbole
TREASURER : Pranali Chaudhari
MEMBERS:

Mpharm:  

Final year : Samruddhi Kelkar, Samruddhi Pande, Shubham Naikwadi

Third Year: Bhairavi Bakhle, K Anantha Krishnan, Soha Baldota, Druvi  Rathod, Dhiraj Dhande, ,  Riddhesh Kharche

Second Year: Fenil Jethava, Yatee Kulkarni

First Year-

VOLUNTEERS:

M.Pharm : 

Final year: Sneha Kamble, Shivanjali Jadhav, Aditya Phatak

Third year: Kshitija Abhang, Ishan Dixit, Rutuj Baldota, Ojas Jadhav, Dhanashree Jadhav

Second year: Saurav Kulkarni, Aditya Lokhande, Vaibhavi Muley, Atharva Suryavanshi, Tanmaya Vyas, Uday Paghdar, Shaunak Paithankar, Adnan Tamboli, Shravan Mali, Amey Gavaskar, Krisha Patel, Sejal Takawale, Deepak Chaudhary, Sarvesh Chaurange, Manoj Poharkar, Sanket Pujari.

First year: 
Principal
Dr. Ashwini Madgulkar
OBJECTIVES:
To foster fellow feeling and unity among all present and ex students of All India Shri Shivaji Memorial Society's College of Pharmacy, Pune.
To arrange guest lectures ,seminars ,workshops, etc in order to create professional awareness and improve the competence among the pharmacy students
To provide aid to needy members either directly or indirectly.
To help APGA members in finding employment and or source of livelihood.
MAJOR ACTIVITIES CONDUCTED UNDER APGA BANNER SINCE ESTABLISHMENT:
01. AWARDS:
APGA instituted various awards for its members to promote skills and appreciate their performance.
Best sportsman & sportswoman of the year.
Best teacher student award on teacher's day celebration (theory and practical) to appreciate the students who play best role as teacher and to dedicate our teachers for their noble cause of teaching.
Alumni of the year. This award is announced on the day of alumni meet and selection is based upon his/ her personal achievements and contributions as an alumni towards the development of alma mater.
Two Best outgoing student award in association with IPER Pune in UG and PG category.
02. Organizing guest lectures by professionals and interactive sessions by alumni on     current topics, career guidance for the current members of final year B.Pharm. and M.Pharm.
03. To Provide financial aid to needy members.
04. Organization of blood donation camp in association with the college as a part of commitment towards social cause.
05. Conduct annual 1 day alumni meet.
06. Visit, donate the stationary items, clothes etc.  to Orphanage home on 26th January and 15th August.
APGA WORKING COMMITTEE 2018-2019
ADVISOR
Dr. Shashikant V. Bhandari
PRESIDENT  :
Rahul S. Landge
VICE PRESIDENT :
Mrunali Nandanwar
SECRETARY :
Yash Mundada
TREASURER :
Pranoti Bharati
MEMBERS :

M.Pharm. :     Akshay Kale,  Sadeechha Wani,  Mrunal Vaidya, Muskan Sen

Final year : Dhanashree Khakale, Rutuja Shinde, Atharva Mulay, Anand Navale, Ajay Rautela

Third Year:   Rohan Thorat

Second Year:  Samruddhi Pande, Samruddhi Kelkar, Shivani Godbole, Ravina Khandelwal, Anish Panwalkar

First Year-   K Anantha Krishnan, Bhairavi Bakhle

VOLUNTEERS:

M.Pharm. : Aniket Ithape, Shubham Lavhe

First year:  Kshitija Abhang,  Dhanashree Jadhav,  Soha Baldota,  Druvi  Rathod,  Riddhesh Kharche,  Dhiraj Dhande

Second year: Shubham Naikwadi

Second year: Akash Yadav, Nishant Kolhe

Final year:  Pravin Nagargoje, Madhura Avchat, Gauri Ingole, Hrishikesh Sambhare, Sushmita Salve, Mayank Bansal.
ADVISOR
Dr. Shashikant V. Bhandari