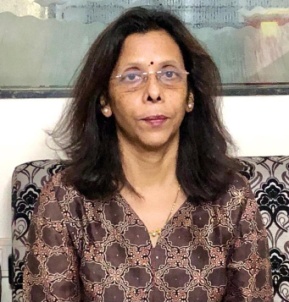 DR ASHWINI R MADGULKAR
Dr. Ashwini R. Madgulkar has completed M.Pharm from Savitribai Phule Pune University (formerly known as University of Pune) and Ph.D from Bharti Vidhyapeeth University. She is currently working as Principal of AISSMS College of Pharmacy, Pune. She has more than 30 years of enriched experience in various sectors which includes 28 years of academics. Her career has been driven by bringing innovations in academics and research.
Dr. Madgulkar started her career as Pharmacist at Emcure Pharmaceuticals Bhosari-Pune (1991-1992). Subsequently she worked as Pharmacist cum Scientist at BJ Medical College Pune (1992-1994) and Senior Scientific Officer at Armed forces Medical College Pune (1994-1996). She is a Member, Asian Advisory Board for Lippincott Wilkins and Williams Publications. She has worked as member faculty (2005-2010) and Chairman (2010-2015) for Board of Studies in Pharmaceutics and member of Research and Recognition Committee (2017-2019) at Savitribai Phule Pune University. She is recognised guide for PG and PhD at Savitribai Phule Pune University. She is also working as the member of the central executive committee of Association of Pharmaceutical Teachers of India.
Dr. Madgulkar has guided about 72 M.Pharm students, 2 students have completed PhD under her guidance and 3 students are pursuing Ph.D. She has published around 115 research publications at various National and International peer reviewed journals and many presentations at various scientific conferences. She is referee to various research journals. She has authored 6 books and filed 2 Indian patent applications. She has received various grants (around Rs. 30 lak) for research projects from AICTE New Delhi, Savitribai Phule Pune University etc.
Awards conferred to Dr. Madgulkar include Rajnibhai V. Patel PharmaInnova Award for Best     M Pharm Thesis Guide in Pharmaceutical Sciences in 2016, Indian Rheumatologist Association's award for the best research paper in 2016 and Pharma HR Society of India Best Principal (Degree) of the Year 2014 by Association of Pharmaceutical Teachers of India Maharashtra State Branch. She is a member of the various professional bodies like Maharashtra State Pharmacy Council (MSPC), Indian Pharmaceutical Association (IPA) and Association of Pharmaceutical Teachers of India (APTI). Recently she was awarded as the Alumni of the Year by Poona College of Pharmacy.
The college has seen many peaks of excellence in education, research and overall development of students under her leadership. College has received accreditation by NBA, NAAC (A grade), NIRF ranking in top 100 Pharmacy colleges in India. With her dynamic and visionary approach, she has been a motivation for students, staff and stakeholders.