Mr. NITIN MADHUKAR KADAM
Alumnus- AISSMS College of Pharmacy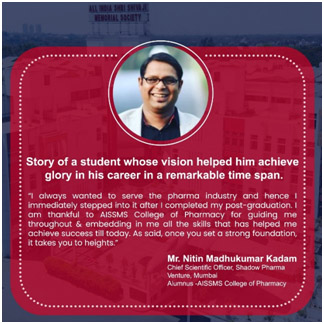 Mr. Nitin M Kadam is an alumnus of AISSMS College of Pharmacy who always possessed exceptional vision and creativity. With his zeal to grow & constant guidance from the faculty he was determined and achieved all that he wanted in a very short time. He is currently working as Chief Scientific Officer at Shadow Pharma Venture, Mumbai.
Nitin hails from a small village Helwak, near Koynanagar, Satara district; but his passion for pharmaceutics is larger than life. Despite certain challenges, he completed M. Pharm in Pharmaceutics (2008) with fruitful results. At the campus of AISSMS College Of Pharmacy, he has been known as a person who thinks out of the box and is always working ahead of time. With his continuous efforts he kick started his career just as he moved out of college. Here is his work timeline –
Nitin joined IPCA Laboratories Ltd as his first step.
Then moved to Micro Labs Ltd and Wockhardt Research Center.
Later worked as Asst. Manager R&D at Cipla-Medica Pharma.
With all this experience, his first major breakthrough was now- working as General Manager, Research & Development, T&T Pharma Care.
He then also worked as R&D Manager with Piramal Healthcare Ltd, Mumbai.
Today, Nitin is an executive advisor to the Board of Directors, Shadow Pharma Venture Pvt. Ltd. Shadow Pharma is mainly involved in Research & Development for the US, EU, Canada, Brazil, Australia, and ROW countries; dossier for submission and technology transfer. Apart from this, it is also involved in Finished Products export supply of Pharma, Cosmetics, and Veterinary segments. He is also a member of the board of advisors to Zodiac Industrial Research lab (ZIRL), Zodiac Pharma.
''Success becomes regular once you set a process.''
With his desire to serve the pharma industry, Mr. Nitin has established a cost free /non-commercial platform to provide guidance/solutions on problems in pharmacy mainly for pharmacy professionals and students. He has provided technical solutions as per enquiries to not only Indian professionals but also from Ukraine, Malaysia, Germany, Thailand, Pakistan, UAE, Turkey, Canada, Netherland & Europe. He is an expert consultant to Coleman Research USA and GuidePoint Global USA.
Mr. Kadam is a renowned international technical speaker and recognized global QbD Expert / QbD world leader. He has addressed more than 25 national/international technical conferences and received various honours. He was invited on panel to review ICH Q8,Q9, Q10, Q11 guidelines at CPhI Quality by Design Asia 2014 at Kuala Lumpur, Malaysia and was a key speaker at the same conference.
Thus, one can gaze at his technical fame. Not ending here, Nitin has one more feather in his cap. He is known as a writer and a poet too. His poetry collection has been published as "काजवा"& other books are on the way of their completion and publication viz. स्पंदन – काव्यसंग्रह, तू माझी सावली,अग्नि दिव्यातील वादळे, प्रेमाची परिभाषा, शेवट – एक नवी सुरुवात, मी आणि समाज – एक वेगळी विचार धारा, etc.
Nitin is a versatile personality and has achieved all this in a short time span. He asserts how AISSMS College of Pharmacy has helped him build a strong foundation for his career and thanks the management for the same.