Sometimes your belief system is really your fears attached to rules" – Shannon L. Alder.
Since I have to wake up early morning and have an important task of time management to target my college biometric machine, I need to compensate by sleeping long on all weekends was my self-assured belief and confirmed philosophy. I had entered 40's club and yet another belief –even if I had recently started with a BP tablet and since I have inherited it genetically, I can't skip it. So without much thinking, I used to take a tablet and justify by saying , It's ok , some of my friends were on tablets for Hypo/Hyperthyroidism and so it's perfectly alright at my age of 40, to munch one BP tablet.  The HbA1c level surprisingly (or alarmingly) was exactly on the border line.  Doctor warned me "Now you are already taking a BP tablet, and I think you are eager to consume a diabetes tablet sooner, if u don't start any rigorous exercise". Yet another tablet!!! No!!! So somehow bells started ringing and I started controlling my diet, of course with not much inclination towards exercise.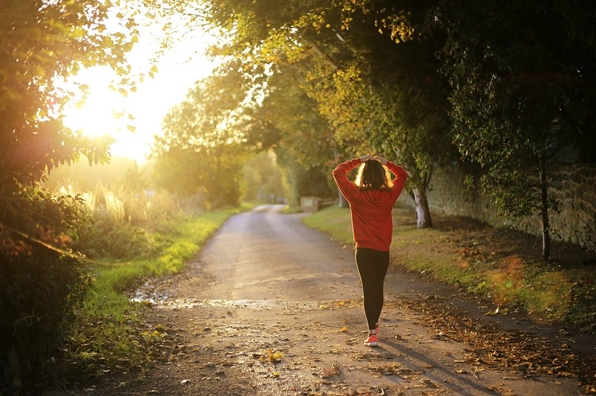 Meanwhile, when I used to be still sleeping till late on weekends, my spouse, Sameer, used to come back from running all sweaty. He had started this running thing about 2-3 years back and seemed to have taken it very well. Though I used to think whether it's his mid-life crisis, considering the shopping of dry-fit cloths for running that he used to be doing. Not only running he had started doing something called strength training for improving running performance. And this was surely affecting my Sunday breakfast with him as mostly he used be home after breakfast and running or exercise was rather creating a sort of wall between us. On one weekend he told me, my dear wife I know your daily strenuous schedule, but still I think you should start running and I will guide you of course with an assurance that you will surely enjoy the process. With a further motivation from my society friends I finally decided to give it a chance and got over my Sunday sleeping habit and started running under his guidance and completed a Half Marathon (HM-21km distance) in 2016 at "Surat Night Marathon event".
Running the event was a memorable and enjoyable experience for me and in order to give it a systematic try, I started coaching under Coach Atul Godbole (Motiv8). The scheduled of coaching time on weekdays for two days being 6 a.m. to 7a.m. in the morning and my morning hurry burry, I used to think it would not be possible for me. But just then came across one of the athletes in our club Sumita Joshi, herself an Architect in a leading company (now a bestie) who told me how she cooks and comes for training by waking up at 4 in the morning and manages work schedule. So, a person who had not seen early morning hours, hardly ever exercised started waking up to match the schedule of running and routine. With a half marathon in 2016, now there are more than a dozen of HMs medals that I proudly hang on my medal hanger besides my husband's. And to my surprise but of course with systematic efforts and guidance of my coach, I could also complete a Full Marathon which is a distance of 42.1Kilometers in the year 2019 at Tata Mumbai Marathon.
So, what has running done to me:
Energy levels at the end of the day are amazingly at high.
A passion towards exercise and good eating habits.
From a combo of 3 components of tablet for BP, I now have a single minimal dose of antihypertensive medicine.
HbA1c level! Oh it's of course in required range.
Quite in control of hormonal changes at this Menopausal age.
I am happily awake at 5 a.m. on every Sunday for scheduled long runs or even earlier if it's a running event.
Time management in my overall working schedule has improved since running taught me that I have to complete the targeted distance of marathon in a scheduled time to qualify for the event.
My kids are following me in this exercise schedule and have learnt to support us, be independent when early morning I am not available with them. They too have healthy food.
Already being a social person, I am now happily associated with friends inclined towards fitness and it gives me a further motivation to achieve my best.
Many a times as a family we spend quality time travelling for running events.
A positive approach to handling negativities around.
Never give up attitude is built up.
So here I have shared my transformation from a person for whom life was only workplace and family to a person looking forward for fitness in this delightful journey. I also aim to conquer ultra-marathon running races to further test my mettle and become strong mentally and physically. It's my sincere appeal to everyone to take out time for yourself from your daily routine and start your journey towards keeping yourself fit.
I would like to conclude by quoting American singer, Christopher Ruben Studdard, "I am not in the best shape, but I want to prove myself, I can do something that seems insurmountable and inspire others by showing them, no matter where they are in their fitness goals, they can do it, too.
And remember the saying quoted by one of the greatest athletes, Jackie Joyner "Age is no barrier. It's a limitation you put on your mind."
Written By-
Dr Trupti S Chitre,
Associate Professor,
AISSMS College of Pharmacy