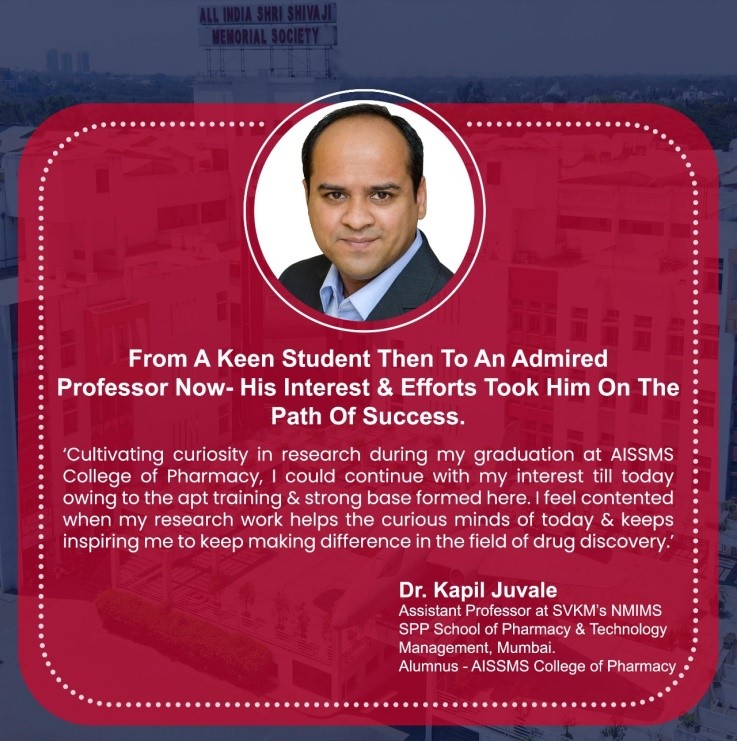 Dr. Kapil Juvale
Alumnus - AISSMS College of Pharmacy

Dr. Kapil Juvale while studying in his graduation years started cultivating interest in the world of pharma research. With all the necessary training, faculty guidance and the encouraging environment he fruitfully completed BPharm at AISSMS College of Pharmacy.
He then began his journey towards more learnings. After pursuing a Master's in Pharmacy in Pharmaceutical Chemistry from SGRS College of Pharmacy, he pursued his doctoral studies at the University of Bonn, Germany (to work on the development of small molecules inhibitors of breast cancer resistance protein). For doctoral studies, he received a prestigious fellowship from the German Academic Exchange Service (DAAD) from 2009 to 2013.
'Efforts towards your interest take you to the heights you won't even expect.'
His thirst to gain in-depth research experience took him further to work as a postdoctoral fellow at the esteemed Indian Institute of Technology Gandhinagar (IITGN).
His research work at the University of Bonn as well as at IITGN resulted in noticeable research publications in the international journals of repute. His work at IITGN has also been granted an Indian patent.
He is currently working as an assistant professor at SVKM's NMIMS SPP School of Pharmacy & Technology Management, Mumbai.  Here he has successfully received research funds amounting to more than Rs. 75 Lakh from different government and private agencies such as SERB, INSA and DNDi (Geneva, Switzerland).
He continues to look for research opportunities to make a difference in the field of drug discovery. His research projects and contributions are currently shaping up the curious minds of students pursuing their master and doctoral studies under his guidance.
His determination towards his undertakings & sincerity during his bachelor and master studies has helped him to achieve milestones in his journey from a student to a faculty. He is very thankful to his professors who laid a strong foundation during his graduation years & guided him to the right path.