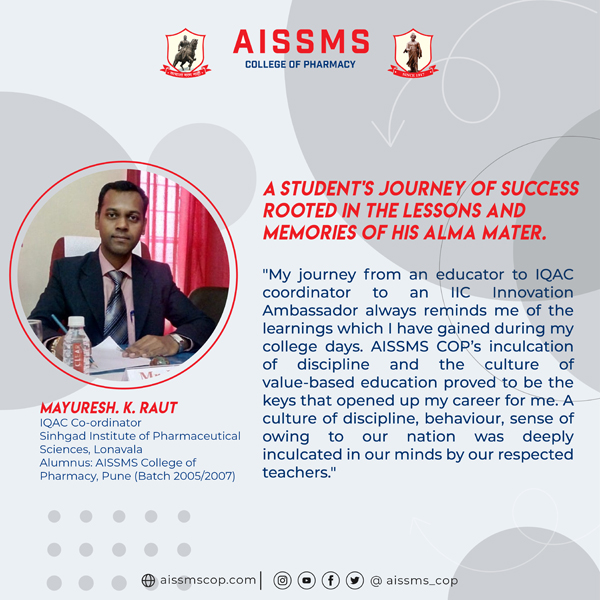 Mr. Mayuresh Raut
Alumnus - AISSMS College of Pharmacy.

Website Story:
Mr. Mayuresh Raut, an alumnus of AISSMS College of Pharmacy, completed his B. Pharm in 2005 and M. Pharm (Chemistry) in 2007. The brilliant faculty and their passion to teach motivated him to think out of the box during his graduation and post-graduation period. He believes, at AISSMS, the faculties are a group of intellectual, bright people that are a great source of inspiration. College of Pharmacy's inculcation of discipline and the culture of value-based education proved to be the keys that opened up Mr. Mayuresh Raut's career.
"Looking beyond books drives you to absorb and assimilate the vivid interactions happening in and around you."
AISSMS College of Pharmacy has played an important role in Mr. Mayuresh Raut's career. His journey from an educator to IQAC coordinator to an IIC Innovation Ambassador always reminds him of the learning he gained during his college days. The research acumen he imbibed during his post-graduation at College of Pharmacy played a significant role in shaping his career as he got listed in World Scientist & University Rankings 2021 compiled by AD Scientific Index 2021.
Today being the era of digital learning, a person needs to update himself with the latest technology and become tech-savvy. At the same time, one also needs to focus on outcome-based education. Mr. Mayuresh believes, this very approach helped him inculcate a sense of self-discipline and develop a 360-degree approach to problem-solving which was instilled in his mind by his alma mater.
Mr. Mayuresh Raut expresses his profound gratitude to AISSMS Pharmaceutical Chemistry
Department which supported him to thrive in search of the best place to put forward. He acknowledges the faith offered by AISSMS College of Pharmacy and he feels contented that he answered the questions of his instinct. AISSMS College of Pharmacy taught him how to stand on his own with self-confidence and the prowess to prove oneself has indeed shaped his career as an educator.